Rambling like vagabonds, Gypsies or tumbleweeds is our "vacation style." We love to let the wind blow us about while we explore the adventure. No plans, just a journey and usually a story! On rare occasions, staying in one place for a more restful vacation can be appealing. Stay in one place? This may seem ludicrous to me, but I have been told there are people that love the slower pace and restful holiday. My idea of a break is not a hammock sipping iced tea, it is an adventure! A story! A story that sometimes ends up in the ER. Like sliding down a cliff, concussions, being swept out to sea a ways, and broken bones.
Shhh, we won't talk about that! Some stories are best left untold.
From time to time, however, every 17th blue moon, we decide to settle on one area to stay. Newport, Oregon is such an area. There is so much in this one part of the coast, that even I can be kept occupied for a few days! Let's assume that you are ignoring the most obvious, most incredible and dearest old friend of mine, the Pacific Ocean. That walking on the beach hand in hand with someone you love, beach combing, searching through rocky areas for agates, jasper and fossils is boring to you! Playing in sand and surf is passe, and collecting sea shells is beneath you. I won't think much of you, but let's pretend!
That leaves a plethora of other things to do. Dressing up as sailors and fisherman, in raingear and going to the beach in a downpour like the locals, and avoiding tourists MAY not be your style so why not embrace the tourist attractions? There are a few right in Newport that might interest you.
The Marine Science Center is an educational and fun place to take the kids. FAR cheaper than the Undersea Gardens, with lots to see and do. This is a hands on learning place. There is so much to learn! When you find fossils along the coast, they will identify them for you! My kids LOVED that when they were small.
The Oregon Coast History Center is a museum you really should visit. It is super cheap to get in, a few dollars, and so much to see! There is too much to describe so I will post a link. Check out their website here.
Seal Rock State Recreation site is a gorgeous beach with wildlife viewing, and TIDE POOLS! It is illegal to take live creatures from tide pools, but there is so much to see here it will keep your kids busy and happy!! We love to climb around looking at the tide pools too. This beach is a little ways south of Newport.
A short drive north of Newport and you can find the Devil's Punchbowl, and if you haven't seen it, you need to! There really isn't anything else quite like it on the Oregon Coast.
The yaquina Head lighthouse is right on the south end of town, fully furnished and complete with ghost stories! The place is a kids delight! Ignoring the BEACH below where you can find petrified wood, jasper and all sorts of other cool treasures, the lighthouse is open and genuinely interesting for very little money. The beach is gorgeous below the lighthouse!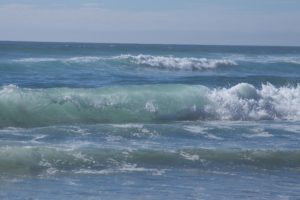 The old Bay Front is great for shopping!
There is a lot of walking so prepare yourself with great coffee and delicious food at The Coffee House across the street from the fishing boats.  The portion sizes are gigantic… and delicious!  The service was excellent and the food was served with a smile.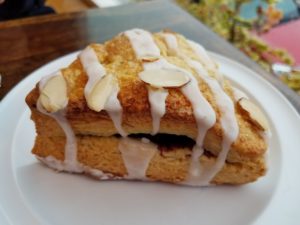 I love a few of those stores, Like "Breach the Moon Gallery" and "Oceanic Arts." They are sister businesses two doors away from each other, both greatly different in everything but quality! The variety, and uniqueness of their artwork for sale is inspiring. I am once again embarrassed to say how much I have spent at these stores over the years, but let me just say that I LOVE these galleries, and my family enjoys getting gifts from them as often as possible. They also ship across the country!
Up the street to the west, is the Forinash Gallery. This is a fun place to go for wine tasting, artwork for sale, interesting little things and some of the great photography in the area. It is an every visit "must see" for us, personally.
Looking for some famous Clam Chowder? Mo's is your destination, right on the bay front.
Along the street there is viewing of the Newport Sea Lions. Don't worry, you won't miss them. Just listen for their complaining, arguing and laughing, and follow the kerfuffle!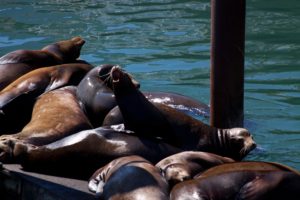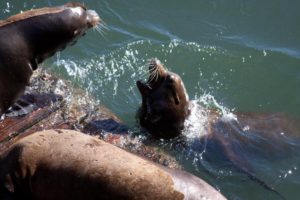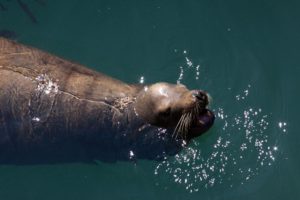 The Undersea Gardens there is pretty cool, but I have only gone once since they are far more expensive than the Marine Science center across the bay. I wrap up each visit photographing the fishing boats just up the street!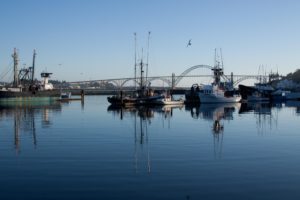 A few years back, my husband and I spent half a day in the other marina across the bay from the old Bay Front, chatting with Yacht owners and listening to them tell us their "yarns" about sailing around the world. (Until an unspoken "ocean incident" we hoped to retire on a sailboat one day.) Even now I wonder if the old guy that told us the story of how he smuggled a case of booze onto a small island that paid for him to live there in comfort for months, all on one case of booze, is still alive. His stories both delighted and terrified us!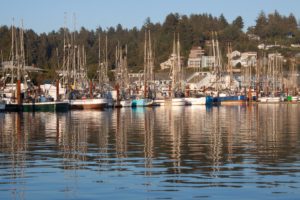 There is shopping, eating, and….

DUTCH BROTHERS DRIVE THRU COFFEE
in Newport right on the main drag, so really you should be able to make almost anyone happy here!
Come in winter and drive a dozen miles or so north for GREAT storm waves crashing, leaping higher than you believe and spraying along the cliffs. A few more miles north to Depoe Bay for Allison's Gluten Free Onion Rings at the Bay Walk Cafe. Seriously, Gluten free or not, her onion rings are to die for! Only there is a catch… You MUST tell her that her FAVORITE customer that drives a THOUSAND MILES to get her GF onion rings sent you! Yes, I AM serious!! Just FYI, her other Gluten Free food is great too!
Next door is a cute little cave-like place that has the best darn Peach Wine and Honey Meade that you will ever taste this side of heaven. When you are in Depoe Bay, watch for the resident whales that live there, or catch a whale watching tour with Carrie Newell, she is a fun lady that once worked with the Coustaeu family. Trust me the whales know her boat. One more thing, if you love art, check out The Sparks' Gallery just north a block, you will love his work! His wildlife/animals are incredible! You can watch him paint while you are in the store. I am poor, or the small samples of his work would be much larger in my home.
Looking for a place to pitch a tent, park with your loved one in the RV, or find a hotel on the beach? The Newport area has it! We like the Shilo Hotel on the beach. Our room is always very clean, the ocean is Just out our large window, and they take good care of us. They have a pool, lounge, restaurant, and we have stayed here countless times since we were early married….a few years back. We ate dinner in their restaurant on our 25th wedding anniversary watching the sunset over the ocean, sipping wine and enjoying the meal the chef made special just for us. It isn't Venice, but the Oregon Coast is our favorite place, and we have some precious memories that visit us all down the coastline. You never know what you will find around the next corner, or off the docks where you are walking.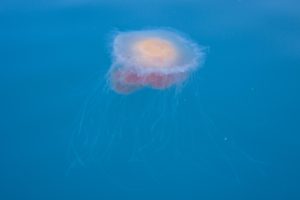 When camping, we always stay at Beverly Beach, a gorgeous campground with a creek and the beach that is famous for it's fossils. (It is not lawful to carve the fossils out of the cliff side for obvious reasons, but I have never gone and left without fossils that had fallen on their own accord and been dumped onto the beach. Just looking at the cliff side full of fossils in intriguing, however.)
If you are in love with the beach as much as I am, then you will spend countless hours sifting the surf for lost treasures. The foam washing over your feet as the tide ebbs and flows will clear your head and lift your soul. You cannot walk enough miles on the beach, the cry of the seagulls will forever write itself on your heart, and you will find yourself. Rain, or shine.
So pack a suitcase, you Have to go to Newport. HURRY! It's waiting for you!
Please follow and like us: