Looking for a romantic getaway?  A fun place to enjoy the outdoors?  Or just want some different shopping and eating experiences while enjoying time away from your obligations?  Adventurous, family friendly Whitefish has it all!
I was so excited to sneak off this winter with my Handsome Husband, we got away without kids so were looking for romantic moments and adventure!  I mistakenly thought that Whitefish was much farther away than it is, and was pleasantly surprised at the fun place it turned out to be.  Let me share our Lodge experience with you, and also some great dining/activities.
We stayed at Grouse Mountain Lodge, which turns out to be really gorgeous!  Nestled in a winter wonderland, it feels like the north pole with it's Christmas lights and snow covered evergreens. Rock fireplaces to sit by, solid wood beams, mountain scenery out the gigantic windows, and incredible lodge decor lend to the magic.  It has beautiful rooms, outdoor hot tub to warm up in, indoor pool, a lounge to sip whatever you want, and fantastic dining!   All you could need for an indoor home away from home.  Montana Rugged is the decor of this place, and the outdoorsman or woman will love it!
Personally, I would almost kill for the frighteningly huge bear rug on the wall in the lobby!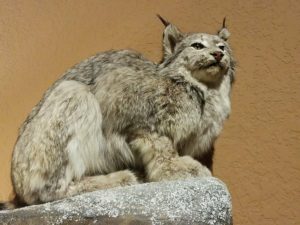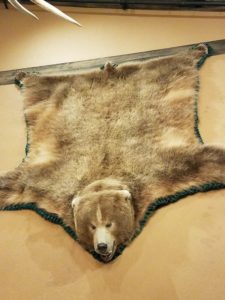 The hot tub was lovely as snow drifted silently down onto our heads while we were warm and cozy in the misty hot tub.  Inside the pool room there are changing rooms for those that don't wish to wear the robes supplied in your room through the halls.  The hot tub is right outside the door from the pool, not far to hurry back to warm air in the sauna!
There is also a coffee stand for those needing caffeine in the morning!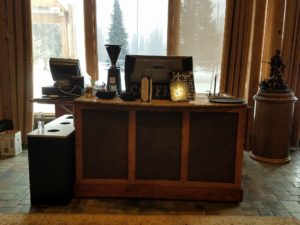 Praise God for good coffee!!!
The lounge has a nice variety of seating, some by the massive double sided rock fireplace.  On the other side of that rock centerpiece was the dining room, filled with delicious aromas.  The chef was amazing, and he was able to create something from the little I could eat, carefully accommodating my food allergies, including gluten.  Mary, the last waitress we had, was extremely friendly, and careful as were the others that served us.  I have to say, the chefs breakfast was incredible and I had to take a picture!  For a lodge dining room, this place had great food with pretty decent prices!  You don't have to stay there to sample the great food and ambience at this lodge, go anytime for a great meal!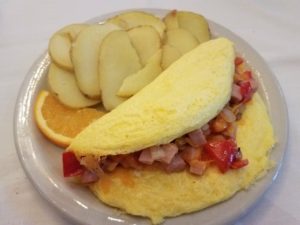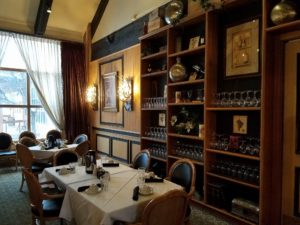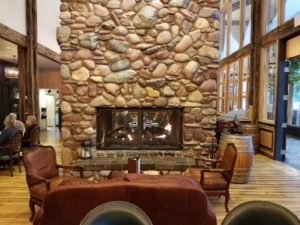 After dinner, we ordered an AMAZING hot apple cider (Called a hot apple pie with a sprinkle of cinnamon and brown sugar on top of the cream)  and took it out to the main lobby that had an even more massive rock fireplace.  We sipped at our delicious hot drinks while snuggling and staring at the fire.  No one complained, either, when we moved chairs over in front of the fire to enjoy our time there warm and relaxed, as the temperature dropped outside.  This place is a new favorite winter escape for us!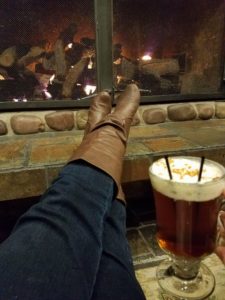 YUM!!!!
While WE were there for a romantic getaway, this place was child friendly, and none of the children there were loud or out of control, making it a fun family atmosphere without destroying the romantic getaway theme for those that left kids behind at home.
Across the road from the Lodge, is a beautiful golf course, which in Winter is open to cross country skiers and snowshoers for a fun year round mix of activities within walking distance.  Ski hills that can be seen lit up at night, are a close jaunt up the mountain!  The energetic of all ages were leaving all geared up in the morning, with faces full of anticipation, and returning at night with tired satisfied expressions.  Again, don't forget the lodge has a fireplace and hot tub to warm up with afterwords!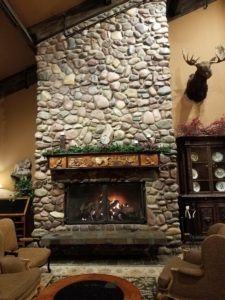 Glacier National Park is less than 30 minutes drive, and although the Go To The Sun Road was closed for winter, we were able to go to beautiful Lake MacDonald at Glacier, take some pictures, and admire some of the area that was open to cars, skiers and snowshoers.  In the Summer you have a wealth of  activities there to enjoy, making a great family vacation!  Glacier Park is full of amazing hikes, wildflowers, views, information, lakes, Glaciers, and fun!  It is definitely a national park worth exploring anytime of year!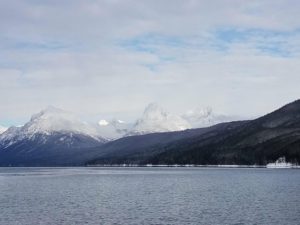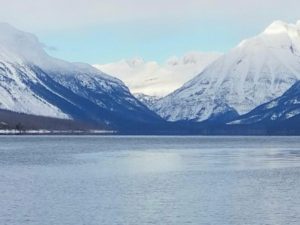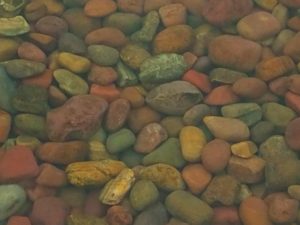 Downtown Whitefish was a fun place to go shopping, where there are quirky, intersting shops to peruse!  (I personally found a gorgeous cream wool sweater that I will wear forever!)  There is truly something for everyone on the quaint main streets, shops for the outdoorsman, gifts, souvenirs, collectibles, antiques, women's shops, men's shops, you name it!  For those looking for the everyday life needs, there are grocery stores and more mainstream shopping areas also.   More than anything, those snow capped mountains and rugged Montana decor all around you sets this town apart!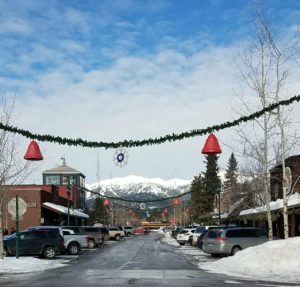 GOOD Gluten free food is always tough to come by, and always frightening to trust someone to cook for you when you are an actual Celiac.  We went to regular restaurants and ate with ease here.  Everyone was more than willing to work around my dietary needs!  Every place managed it too, without making me sick.  I cannot wait to go back without the worry of where I will eat!
First, I have to RANT about CASEY'S restaurant, it has a lounge and dining area, and we sat looking out the window at the beautiful town and scenery as we ate ELK CHILI, GF for those that care, and since they weren't sure they could guarantee their french fries were safe for me, they created great multi-colored nachos for us to enjoy with our Chili.  Oh my goodness, that CHILI!!!   A kick, but not too spicy, big chunks of tender Elk, it was incredible!  Service was VERY friendly and accommodating also!  I highly recommend the place for anyone!  For those discerning Celiacs, I assure you that I am like the canary in the well, and if I didn't get sick, they did a great job.
Not to mention DELICIOUS FOOD!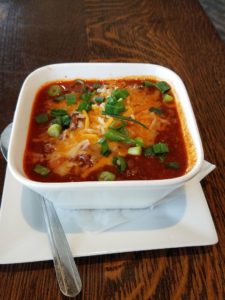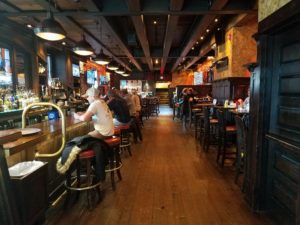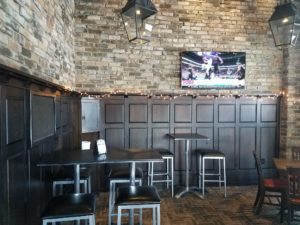 Speaking of Gluten Free food, if you love baked goods but find GF options hard to find, skip in to the whimsically named RED POPPY, and enjoy her food!  We found dinner rolls, breads, so MANY kinds of bread and dessert breads!
Breathe in the smell of freshly baked breads once again!
A glass case contains her beautiful goodies, and we went crazy there buying several things to bring home with us and try!  The owner was very cheerful and interesting, and it is a really cute shop.  I'm pretty sure your GF friends would love a souvenir goodie from there on your trip home!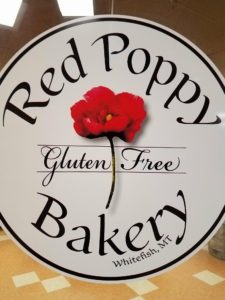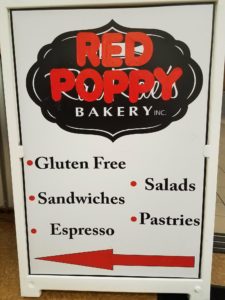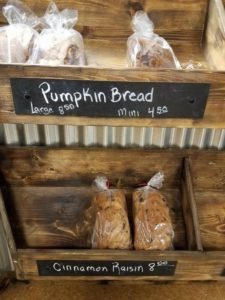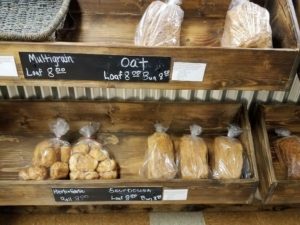 Now I know that Mckenzie River isn't a new place to eat for many of you, but I have to say, they make the best GF crust my Handsome Hubby has had.  (He isn't a Celiac but has to live GF to kiss me.  LOL,  Fortunately he chooses to live GF….Squeal!)  Their Pizza was great, they have a good system to keep from cross contaminating food for allergies, and we ate well and stayed well!  GREAT pizza!!
Whitefish has much to offer, from family vacations and activities, adventure and romantic getaways. I can't wait to try it in the Summer!  The drive there is full of gorgeous views of wild mountain country, providing a pleasant time to listen to music, read to each other, and have great conversation while checking out beautiful Montana!  Then, the destination is sheer adventure!
I think you really need to check it out!
Please follow and like us: