Once upon a time, finding Gluten Free food made me cry, and wonder how I would ever feed my children. Never did I even imagine we would eventually be able to go out to eat in an actual restaurant again!
Unlike in times past, gluten Free options are consistently expanding as we travel and look for hot meals. Where we once had no choice but to bring our own food, often too many gf sandwiches or salads in a large cooler, now we can actually go into a restaurant and order real food like other people. New options pop up all the time, like ONION RINGS that taste like heaven, so read on to learn about just a few of the places that can serve you safely on the Oregon Coast.
Seaside, Oregon-
The Tsunami Sandwich Company in Seaside, Oregon is a great little place! They serve chili and any kind of sandwich on their menu with GF bread. The people there are friendly and helpful too. Top off lunch with GF ice cream while you are there.
Cannon Beach-
Start your morning off at the Sleepy Monk Coffee Roasters, with great coffee and tasty GF options like Banana Bread and Lemon Poppy Seed Cake! Friendly and helpful people will assist you in your safe selections.
In the evening, the IRISH TABLE opens for dinner with many wonderful options. I haven't tried it myself yet, but I hear their Shepherds pie is delicious! They have many great GF options.
Manzanita, Oregon-
There are actually many GF options in Manzanita, Oregon, many of them openly offer GF food.
The Coffee Shop has AMAZING coffee and some GF goodies too. I start EVERY day in Manzanita with a visit to their coffee shop. I won't lie, Manzanita is my favorite coastal town. It is a refreshing break from the crazy-busy tourist attractions all down the coast, giving you a sense of true coastal living. See my post about Manzanita, Oregon Here.
The Big Wave Cafe offers not only salads, but Grilled Halibut and Scallops cooked safely for GF folks! I will be honest, I have not eaten here as I am also allergic to many seafoods, but I hear the food is great and I spoke with the manager who was more than willing to meet dietary needs when possible to do so safely.
The Left Coast Siesta has very friendly staff, and are very willing to meet your dietary needs. They brag that they can make nearly everything on the menu GF for you, and I would get there early, the food is good so it gets packed! I was promised that they also are very careful to keep your food separate from other food in the kitchen, for those sensitive Celiacs like myself.
Depoe Bay-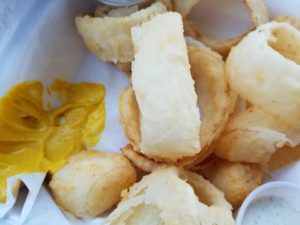 Allison, the owner of Bay Walk Cafe has gluten free clam chowder, onion rings, french fries, GARLIC french fries, breaded chicken and fish! She has GF goodies from cookies and brownies to GF ice cream cones too! I seriously travel a long way to get her onion rings! They are amazing! I take a bite of those onion rings, and the clouds part, angels sing, they are that good! Even onion rings WITH gluten don't taste this good. You really must try out this place, and if you can only try one place on the coast, this is it! Each member of my family has a different thing they love from her menu, and I send folks to her all the time that are on their way to the coast. They always thank me. This is right on the main street (Hwy 101) as you drive through Depoe Bay. You can't miss it!
ONE more thing;
Tell Allison that her "FAVORITE customer that drives a THOUSAND Miles for her GF Onion Rings" sent you!!!!! She will likely tell you that I am a pest, but as long as she keeps feeding me, I don't mind!
Newport-
The good looking young man at Dutch Brothers told us about the gluten free place in Newport, and he said he wasn't even GF, yet he loved their food. The things that talked my daughter and I into trying it was the promise of pizza and baked goods! We had to go!

The Gluten Free Place is right on the main road going through Newport, which is also hwy 101. This little store/bakery/deli is meeting the needs of gluten free residents and tourists alike, and I was delighted to go check it out with my daughter. The store is filled with a plethora of food choices to buy, sporting a great selection of gluten free groceries. In the back of the store you can look at freshly baked goods, and from the samples we tasted I can suggest that they are great! We ordered pizzas. To be honest, I took my first look at the pizza and thought they had been pretty stingy with the ingredients, but when I bit into that pizza I was surprised! Likely the best GF pizza crust I have ever tasted! Not sure how they did that, but Kudos!! Now I have to say, great pizza!
I am looking forward to my next trip down the coast, so I can try out more places. When you go, check these places out, I know you will enjoy them! Especially the onion rings! (Wink!)
Please follow and like us: